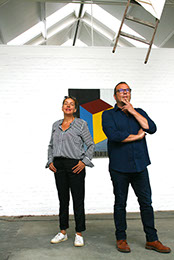 Nancy De Vos: business director
Joris Van der Borght: artistic director
According to the Bruthaus philosophy, contemporary art should have a contemporary relevance, refer to social themes and preferably play a broader role.
Bruthaus Gallery organizes five exhibition projects a year, sometimes solo exhibitions, but also regular confrontations between different artists, which are regularly created by external curators. During these exhibitions we organise regularly 'meeting-points'. These meeting-points are a moment for art collectors, curators, highly interested parties and artists to meet. At these Meeting-Points the exhibition is dissected from three perspectives: its art historical positioning (by an art critic), the gallerist vision and by the artist.
Bruthausgallery rather hasn't got a typical gallery function, in this sense performances are also regularly programmed.
In addition to our gallery activities, each year we offer one artist the opportunity to create a large-scale contextual installation in Claessens Canvas' factory buildings next to the gallery.
Bruthausgallery actively seeks open collaborations in the field with like-minded people and organisations, to exchange artists and shows and possibilities.
Joris Van der Borght and Nancy De Vos founded Bruthaus in September 2012 as a mixed house for artistic and functional artistic experiments. From September 2016 Bruthaus was re-defined to Bruthausgallery as a gallery for emerging art.
From September 2016, the gallery expanded to provide an additional exhibition space covering more than 500 square meters. From then on Bruthaus changed its name in 'Bruthausgallery', and increased the activities into a double program and more possibilities for group shows and bigger works. At the same time there are more possibilities to show works in
permanence.
J.Van der Borght